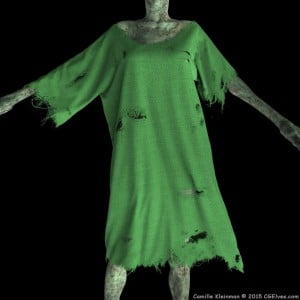 In this series of free Marvelous Designer video tutorials, you'll learn how to create torn, tattered, dynamic 3D clothes using Marvelous Designer and Photoshop CS6.
You'll learn how to make a basic dress pattern in Marvelous Designer cloth simulation program, and then learn how to use Photoshop texturing techniques to create the ripped torn fabric effect.
You can use these techniques to create torn beggar clothes, modern torn jeans, pauper clothing, or tattered zombie clothes.
In Part 1, we'll draft the Marvelous Designer dress pattern and start texturing it.
In Part 2, we'll continue creating the tattered Zombie clothes texture in Photoshop, adding more holes and tattered ripped edges.
In Part 3, we'll complete the zombie clothes texture and apply it to the clothes in Marvelous Designer.
In Part 4 of this tutorial, you'll learn how to render the Marvelous Designer garment in Keyshot with the transparency effect on the clothes texture: