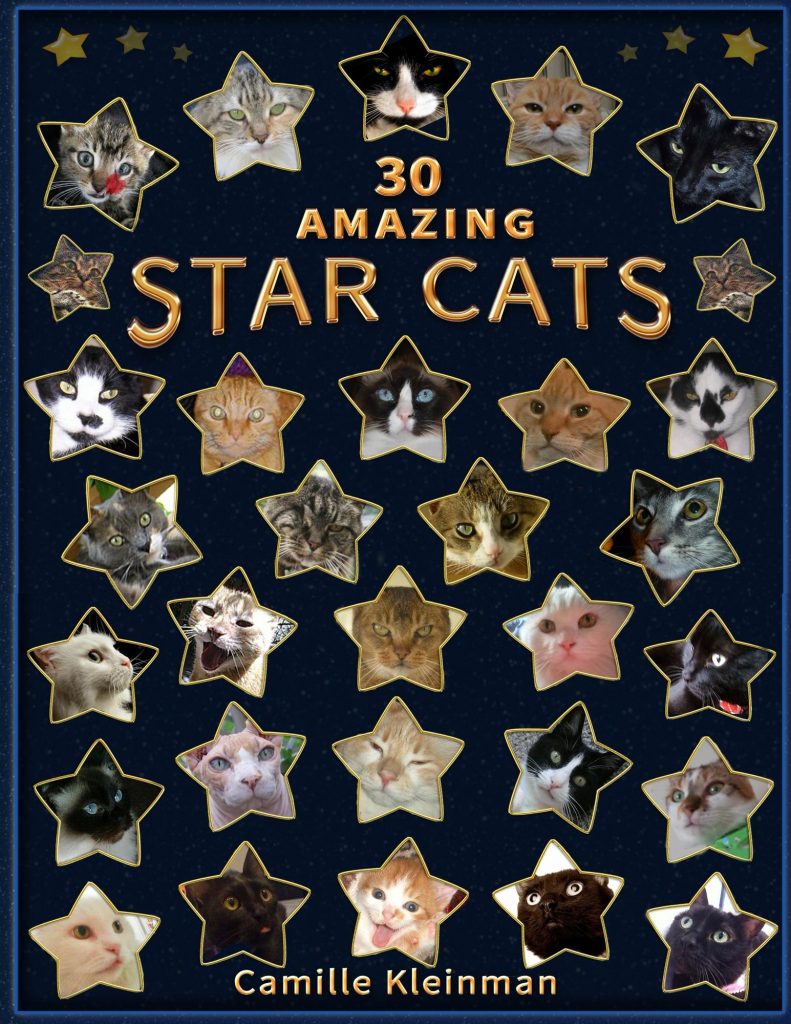 I'm excited to announce the launch of my book '30 Amazing Star Cats'.
Here is the summary:
This book contains a collection of Heart Warming, Touching and Funny Poem stories about 30 Very Special Cats. The MUST-HAVE book for every cat lover!
Smile, laugh and wipe away a tear as you read the Cute, True Stories about the Lives, Adventures and Strange Habits of 30 Cats you will never forget!
Diamond's love affair with a skunk, Maggie chirping with birds, Apollo the Jewelry thief, Georgie the Facebook Partyholic, how courageous Rachel survived Katrina, Ghost hunter Kipper & Ellis the Clown, Boom-Boom the dog boxer and so much more…
'30 Amazing Star Cats' won the CatClub 2016 Award and was named 'the best book for cat lovers'.

Reader Reviews:
"If you love cats with their own irks n quirks then you will love this delightful book full of real characters. From hard times to good, from naughty to nice this little read is a true heart treasure. I hope there will be a follow up, a great read to lift your soul." – Nelle Lombardo
"Wonderful poems about amazing star cats! Some of them made me laugh, others made me cry. My cats really appreciate the rhyme and meter; they listen intently when I read the poems to them!" – Shanni Fox
"I am delighted to have the opportunity to read the beautiful book 30 Amazing Star Cats by Camille Kleinman. It is a perfect mixture of heart warming stories written in poetic form and absolutely stunning photos of the chosen Facebook cats. Each of them has a lovely story, some have lived a life with adversity and health issues, and some have had a more normal existence, but one thing for sure is that all these cats are well and truly loved and have made an impact on the lives of many. Thank you Camille for putting this book together, and in particular for including precious Aladdin. I wish you well with this and all future publications." – Amethyst Di.
"Ai just finished reading the PDF download of ur book 30 Amazing Cats…some stories brought tears but ai think da most coolest thing is dat you wrote about kittehs dat ai kno…Martina-Rose Wiggan O:) and Will…and while ai wuz trying to read by myself , ai wuz joined by 3 ov mai 7 kittehs pawing at dat computer so ai read it aloud to dem…5Star paws fur u Camille…lovely storys and very well poemed (if dat iz a werd)" – Hudson Sauers
"I just read your book and found the pictures and backgrounds to be beautiful and well laid out. I was surprised to find out that you are only 18, as through your poetry you seem to possess an "old soul". You seem wise beyond your years. My favorite poems/stories were the ones about overcoming tragedy and adversity for I could really "feel and connect" with the kitties, as well as you. I really enjoyed your book. Well done!" – Deborah Gangl
"My dear Camile,
i am so very very happy, because i got one of the pdf of your wonderful new book….today morning i read it with my autistic pupils ( i work as a special teacher), they love love love it and they declared it to their new favorite book…thank you soooo much for this fantastic present , you made my and my pupils day perfect…" – Rita Bauer
"I'm Sid's dad and just sit and read the book. The poems in this expressed what my wife and I see with all these beautiful cats everyday, Camille you really were spot on, and I would recommend this book to all my friends and family. You rocked this book!!!!" – Sid's dad
"Camille such a heartwarming book thank you so very special." – Donna B
"Great book! Love the whole idea and the author wrote such lovely poems for these cherished kitty cats :) Everyone should own a copy!" – Britt Isham
"I love the many pictures and great poetry about each cat. So cute!" – Mary A. Standridge
Read "30 Amazing Star Cats" on Amazon, B&N, NOOK, or iKobo.